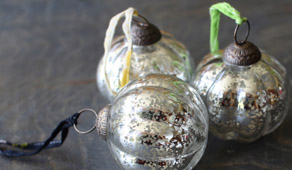 Christmas Decorations
Pretty recycled lanterns & fair-trade recycled glass baubles & eco Christmas gifts.
If you're looking for a responsible and environmentally friendly Christmas then its a good job you've found protecttheplanet.co.uk. Our Christmas range is split into environmentally friendly Christmas baubles, eco friendly gifts and eco table decorations. Our simply stunning range is largely recycled and will ensure you can enjoy a guilt free, eco friendly Christmas celebration - enjoy our tarnished silver baubles!